BERGANS OF NORWAY
How Bergans of Norways e-commerce reached new heights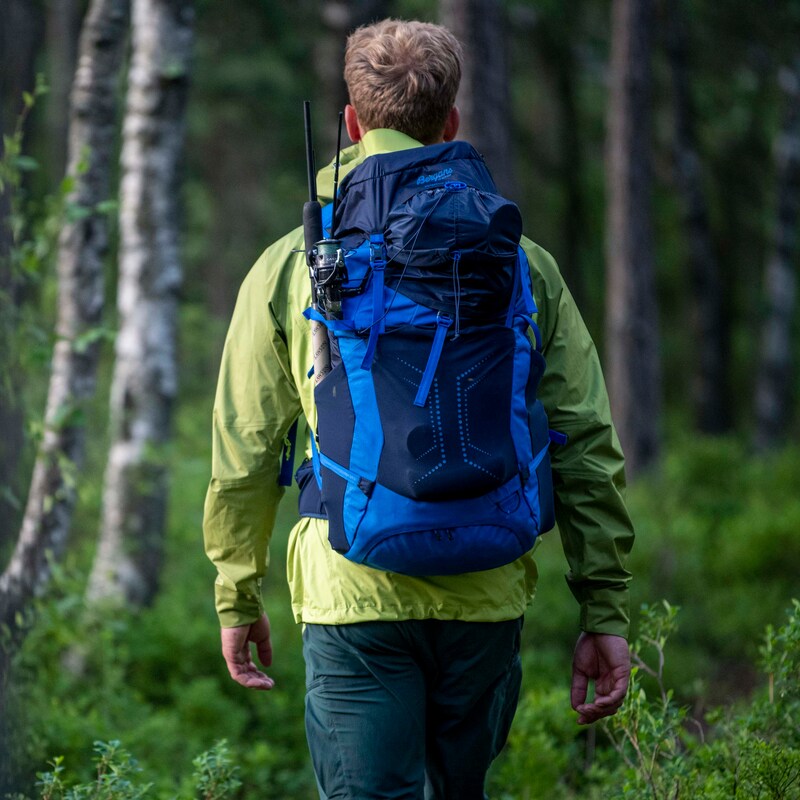 Wide target group
Although Bergans has always had a large and loyal customer base among Scandinavian outdoor people, there also seemed to be a need to digitally reach a wider target group - especially in younger segments. High-quality garments and equipment shouldn't have to have an age stamp. At the same time, it was tempting to reach out to markets outside Scandinavia. They needed a digital refresh. Bergans would be presented as a competitive company amongst other outdoor brands, to be popular for both young and old customers. In addition, there were also clear technical needs, which moved the digital transformation higher up on the agenda.
The e-commerce solution we had worked well, but we were stuck with high development costs in comparison with what the board considered was the right level linked to our business goals. Because we have a small IT department, we also had to rely on consultants, which increased the cost level further. We simply needed to roll up our sleeves and take on something new.

Christopher Häggström, interim CDO at Bergans of Norway.
The search for a new e-commerce partner
On behalf of the board, an internal project group began looking for a new e-commerce partner. The goal was to switch to a best-of-breed solution, which meant merging systems by using the third-party providers and services that interact best with each other. In short, a best-of-breed-soluction makes it easier to maintain every component of e-commerce; this was very important for Bergans of Norway because they have a more dynamic technical team.
Challenges
Creating a site that was functional, inspiring, and competitive in markets outside the Nordic region was a major challenge. It was also important that the whole project didn't become too costly. They wanted everything to lead to a clear increase in conversion and sales.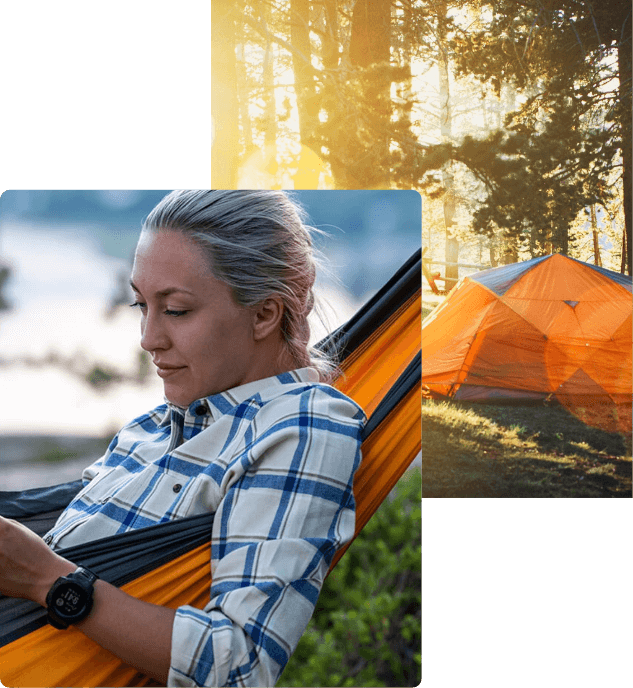 To find new target groups and keep the existing ones
To find new target groups, it's often necessary to adjust identity and profile, which can affect loyal customer groups' positive attitudes about the brand. Bergans had a very clear target group of older outdoor people who liked the brand for its premium quality. In order to attract more younger target groups, the good quality and premium feeling needed to be seen in a new light. A potential worry was that the transformation would lead to their already existing and loyal customers not recognising Bergen's identity in the new e-commerce field.
Boka möte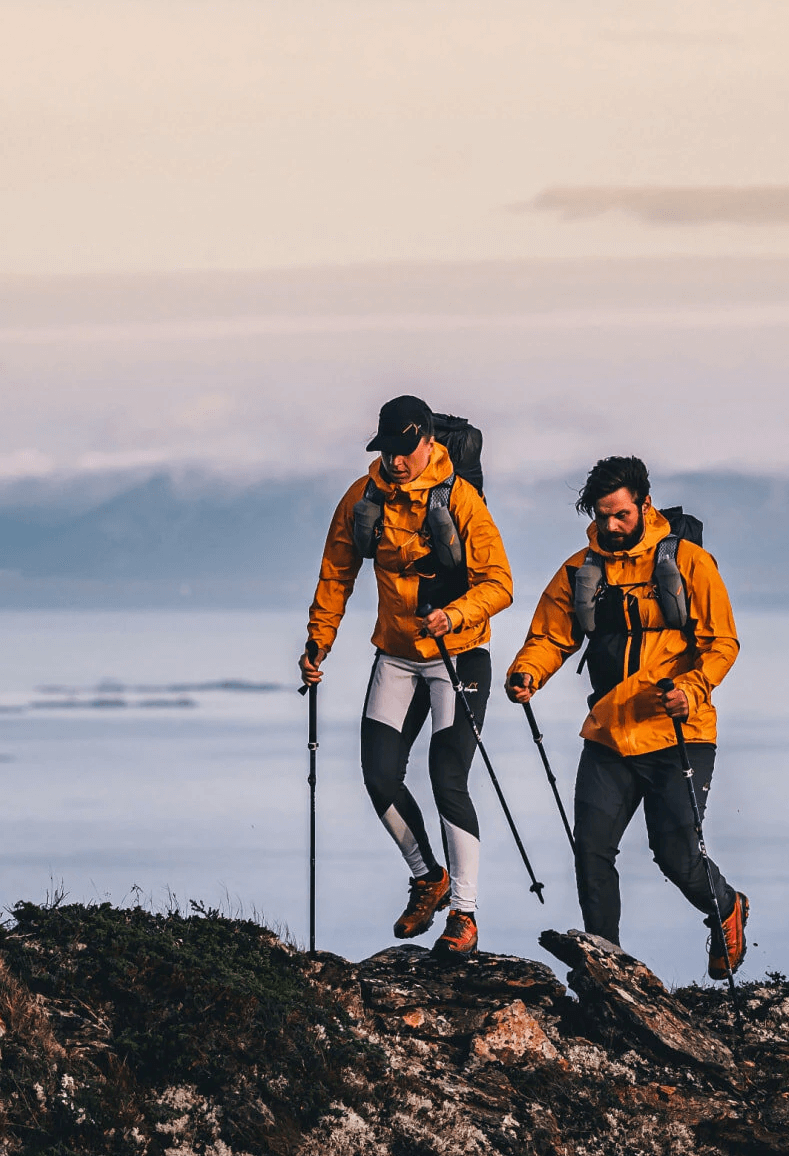 Increased conversion rate and decreased customer need
Bergans consists of a team that has previously been dependent on consultants. It was a goal to be able to satisfy an e-commerce and business system that was simplified enough for them to be able to control it freely. They were looking for an e-commerce with a best-of-breed solution where everything would work seamlessly, and where the choice of third-party suppliers would be easy to make.

The conversion wasn't bad at all. The new e-commerce presented a goal and a challenge to greatly increase sales and conversion. All products should be highlighted in both an informative and inspiring way.
That's why they chose Norce
There were a number of platforms and partners to choose from. But thanks to a cost-effective plan, smart platform and good partnership with plenty of support, Norce stood out from in the crowd, and was the obvious choice as a partner.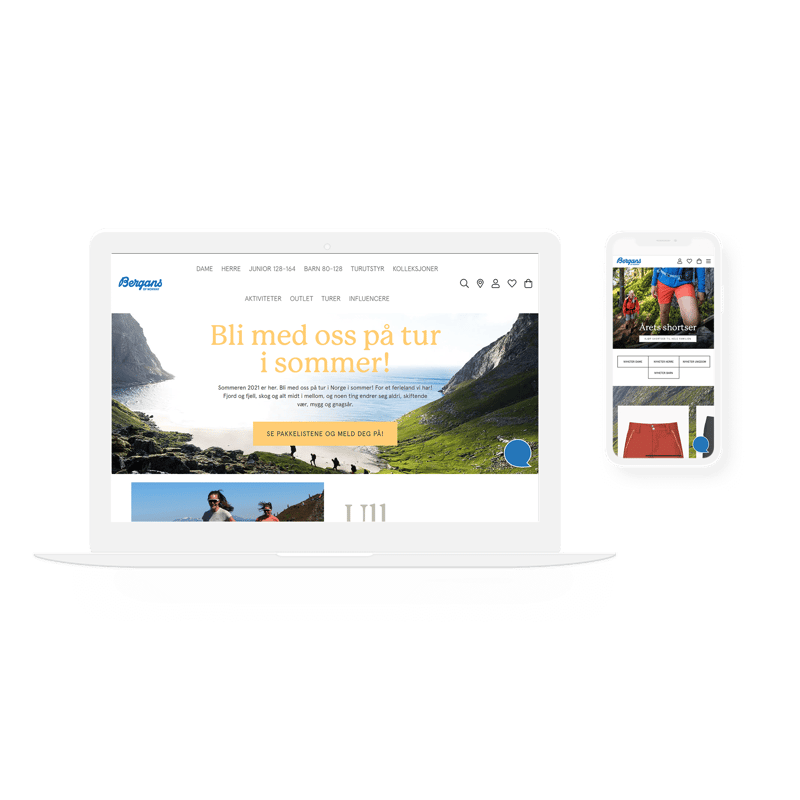 Norce is a safe bet from several perspectives, and what perhaps makes the company most different from other suppliers is consistent future thinking. Future thinking means that Norce ensures that all technical solutions they deliver are state-of-the-art, and last for a long time. They always deliver a solid product road map that clearly describes how Norce will take e-commerce forward, and they always contribute with knowledge that complements the technical solutions.
We received quotes from several e-commerce providers, but Norce's solution was by far the most comprehensive and cost-effective. Their solution includes support and staff training, which is important to us. We weren't just looking for a new e-commerce supplier, but also a knowledge partner.

Christopher Häggström, Bergans of Norway.
Solutions
Through close cooperation, Bergans was able to get the right type of external support from Norce to achieve its goals and let business efficiency skyrocket. R3 Digital Designbyrå implemented the change and also modernised the design of the site to inspire new target groups.
Technical equipment and strategic support from Norce
Bergen's marketing team and Norce's E-commerce manager Oskar Tornberg had very close contact throughout the project - it was of the utmost importance that all the benefits of Norce as a Saas platform could be passed on correctly, and then used to its full potential. Norce's highest ambition was not only to provide Bergans with the right technical equipment, but also to help companies use the system through training and support to enable long-term company-wide efficiency. This happened by finding a properly adapted best-of-breed solution with high flexibility that enabled admins to create target group-adapted content.

- It's not only 100% competence, but also goodwill that Norce contributes to any collaboration. By being guided in a positive way through all aspects of the technology, we can get a better overview, and then make more cost-effective decisions in the future.
Saas and Api first-thought
With the goal of creating a seamless customer experience, Norce's modern Saas platform and APIs were used, creating fast loading times and smooth integrations of third party systems. Time-efficiency was observed in all aspects:

- With an e-commerce platform with excellent functionality we don't have to build everything ourselves anymore. Instead, we can spend our time and resources analysing our customer data to develop specific improvements, says Christopher Häggström.

Norce's platforms are constantly evolving and they frequently release new, fully loaded functionality that is made available to all their customers. In combination with their role as a knowledge partner and with API first, Norce can help companies improve most e-commerce aspects.
Headless e-commerce platform
Norce Commerce is completely headless and API-driven, which opens up to create a front-end experience where design and functionality are completely adapted to needs and wishes. Separated front and back-end. With all data and logic via API.
Super-fast front-end
Norce Flight - lightning-fast front-end framework, is not only fast – it's built on the very latest technology in React and on Graph-Ql APIs. Based on the framework, a tailor-made solution with the highest performance is designed.
Design and implementation from R3
After careful analysis of target groups and buying flows, R3 designed and programmed an equally functional and inspiring site. The biggest focus was on enabling the continued creation of interesting inspiration for all of Bergan's customer groups, new and old. R3 built pages that could easily be managed and cost-effectively built onto by Bergan's internal marketing team.
Third-party providers that interact
By choosing Flowbox to produce user-generated material, Yotpo for reviews and Klarna as a payment system, a seamless whole was created. Each part was designed entirely based on analyses of Bergan's purchasing groups, and significantly simplified for customers to be inspired.
Customer-customised features
With a focus on the product, innovative solutions were created - the front page was designed so that several product images were on a grid, where, for example, a garment could be directly displayed at different angles. There were also features such as a custom wish list, which allows you to favourite products and then easily find them again. For further tailoring, a new, more developed filter was created where each category could be optimised. To make it easier for the customer to find a store, a Store Finder was also added. Customers can easily search and find both store and retailer using a map.
Simplified campaign management
New conditions were built, with regards to Bergen's staff, who previously needed to post the campaigns in real time, A very important solution was to enable the scheduling of campaigns, which meant that staff would no longer have to adapt to a timeline of campaigns going live.
Implementation
To build a comprehensive e-commerce, all partners must work in a limitless with each other and bring out the best in their respective competencies. Norce and R3, in collaboration with the third-party suppliers, have found their synergies, and simplified the design of all parts of the e-commerce.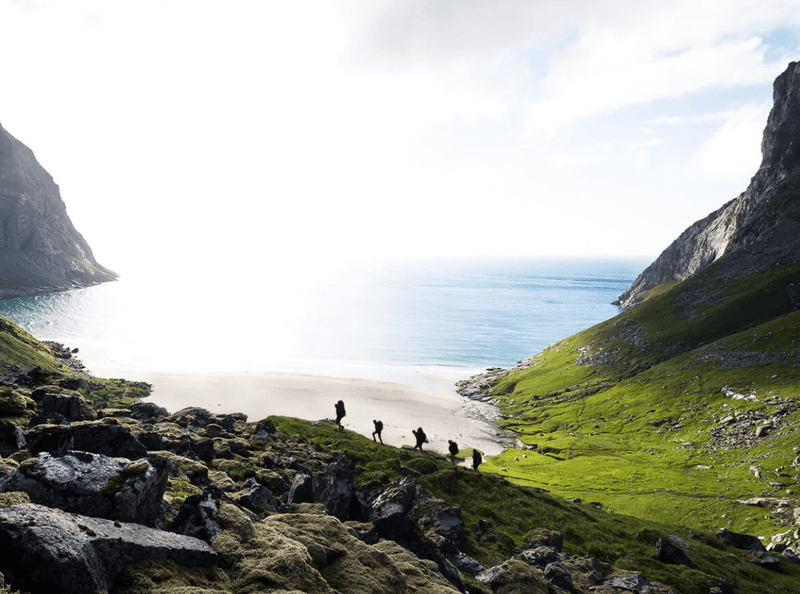 In implementation, best-of-breed solutions and API first-think were two clear starting points; this resulted in a smart set of third-party vendors as well as user-friendly and inspiring implementation and design. All partners involved in the project had cutting-edge expertise that, when combined, could meet customers' e-commerce needs. Christopher Häggström is happy with the result. He also thinks that there has been a change in the need for e-commerce - and believes that everyone involved in the entire e-commerce project has shown that they are at the forefront of creating solutions that meet consumer requirements.

- Flexibility, pace of development and knowledge sharing become more important competitive advantages as e-commerce develops. The effect of the API economy on e-commerce can no longer be ignored - consumers' demands for a seamless customer experience are increasing rapidly. That's why it's important to be equipped for the future and acquire knowledge about how SaaS and API-first thinking opens up for new business opportunities. We have been provided with everything mentioned above and that's why we're strong among our competitors.
R3 has the floor
R3 has a long history of working with Norce to find innovative and high-performance solutions in all types of e-commerce. Fredrik Lyckelid, Digital director, and Joakim Eriksson, who lead R3's web development, praise Bergans for their technical and social skills - and look forward to continued projects together.

- In addition to previous collaborations with Norce, our entire team has a long background of working with Norwegian customers who have grown to the point that they're outgrowing the Scandinavian market. We were no strangers to designing and building an e-commerce that greatly improves traffic and conversion. Although our own experience simplified all aspects of the project, we should add that Bergans is a very accommodating partner. They have clear goals that we can work towards.

All design and implementation was free of obstacles thanks to the professional and positive attitude we were routinely met with, says Fredrik Lyckelid.

- Considering that we have always worked from the outside with an enthusiastic team and were always given clear instructionss, we were able to implement a site that both we and Bergans are really happy with. We have found the right path in almost every respect – design, flows, inspiration and everything else that Bergan's e-commerce now includes, Joakim continues.
Head of CSM has the floor
Oskar Tornberg, Head of CSM at Norce, had close contact with Bergans from the start of the entire project. He's happy with the project from start to finish, and looks forward to new projects.

Norce has previously been hailed as being one of Sweden's best partners, delivering updated expertise and analytical skills. Oskar Tornberg points out, however, that despite all Jetshop's competencies, the really successful assignments are achieved with mutual understanding and forward-thinking spirit. Bergans has been exemplary in that respect, and the results have been good.

- Wokring with Bergans is always challenging and fun. They always want to be at the forefront digitally, and have the resources to do this and work with their e-commerce in an efficient way. They aren't afraid to try new things and they always choose to work with the suppliers and partners that they think are best for the purpose. This means that Jetshop is always challenged and finds new ways forward in collaboration with the client.
Results
Shortly after the launch of the new e-commerce, large resources were put into marketing. Traffic and e-commerce conversion have increased impressively. Sales are ticking like never before, and the traditional brand is shining in its new digital design.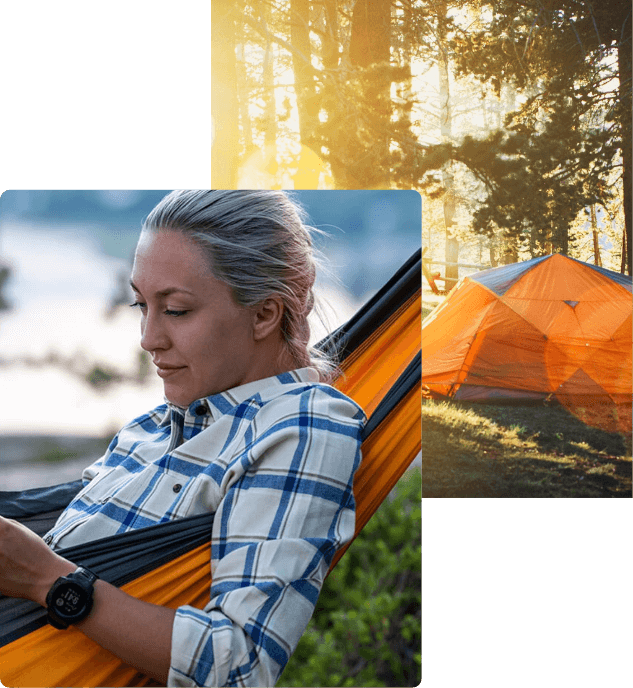 Bergans's e-commerce is significantly faster due to open APIs. The visual update, especially on the home page, shows a clear improvement. A selection of other features that have been improved are the navigation, "my pages", the optimised search engine and the real-time stock levels on the product pages.

As a result of strategic and technical know-how from all parties involved, the conversion has also increased significantly - especially with regards to the mobile version.
Our mobile web shop is much improved and pages load very quickly, which affects the conversion and helps us do better business. Our back-end is also more intuitive to work in and it is possible to schedule campaigns, which means that our staff don't have to get up in the middle of the night to publish campaign material during holidays, says Christopher Häggström.
Conclusion
Bergans felt limited in previous e-commerce and wanted to enable international exposure via digital means. They wanted a modern look for their new e-commerce and to make Bergen's traditional premium quality feel visible. In collaboration with R3 and third-party suppliers, Norce created seamless e-commerce where inspiring materials and better speeds led to increased conversion and sales.
The entire e-commerce was also built so that Bergen's internal team could handle it easily. Campaign pages can be scheduled, package offers are easier to design, inspiring content easier to upload and all pages load even faster.

In short, a collection of modern solutions has been created, which interact witheach other to engage and inspire the end customer. That's what a successful project looks like.
Some of our selected cases