Are all products equally important? Most e-commerce retailers would probably answer no to that question. In this blog post, we will provide tips on how to segment your range in Norce PIM to focus your efforts on the most important products.
1. Create Product Groups
If you work with a range of thousands of products, you traditionally have an A and B range or products that are classified as "Never Out of Stock" (NOS). These are usually the products you try to create good content for in the form of texts, images, and properties. The challenge with this approach is that customer preferences change faster than you can classify your range. The risk is then that you add more and more products to your A range without removing any, and over time build up a large number of outdated products.
2. Let popularity drive
A more modern approach is to focus on the most popular products and thereby constantly stay up to date with trends. Norce Commerce has always had a built-in popularity engine, but the configuration has previously been hidden behind the scenes. However, it is now possible for users to adjust the settings themselves to create a relevant popularity ranking. Perhaps you want the number of orders to be the most driving force, or is it high-margin products that should be on top of the list?
A smart way to customize popularity is to control it with the help of flags. For example, the popularity of Christmas products often persists well into January, which is not always desirable. To counter this, you can calculate popularity based on products flagged with "Spring".
When the popularity is set, it is easy to sort the products in popularity order and make sure they are enriched in the best way.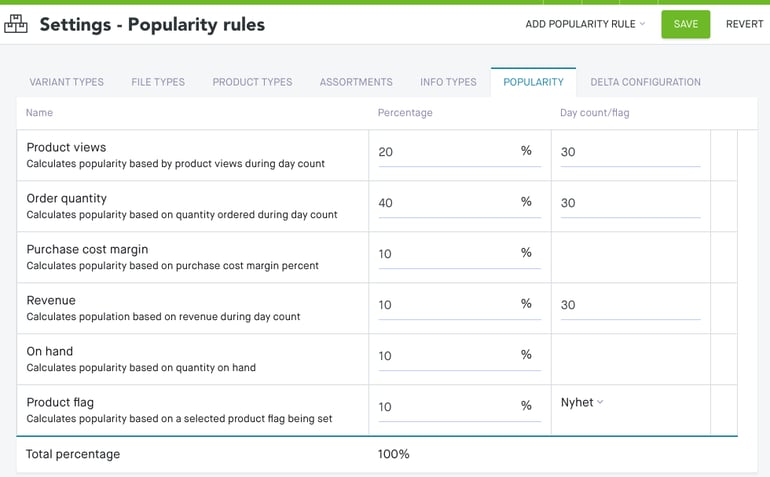 3. Customized workflows for product enrichment
Speaking of flags, they can be used for so much more. A clear example is using them in an enrichment process. For example, the flag group "Product Status" could consist of the flags "Text needed", "Image needed", "Proofreading", and "Ready to publish". This way, each individual user can filter out the products they want to work on. The person working on texts selects products marked with "Text needed" and then turns off the flag as they are satisfied with each text.
With the help of these three tools, it is easy to quickly filter out which products you want to give some extra love. Do you have questions about popularity calculation or other questions about Norce Commerce? Don't hesitate to get in touch with us!