SPENDRUPS
Consumer-inspired e-commerce for the company's B2B customers.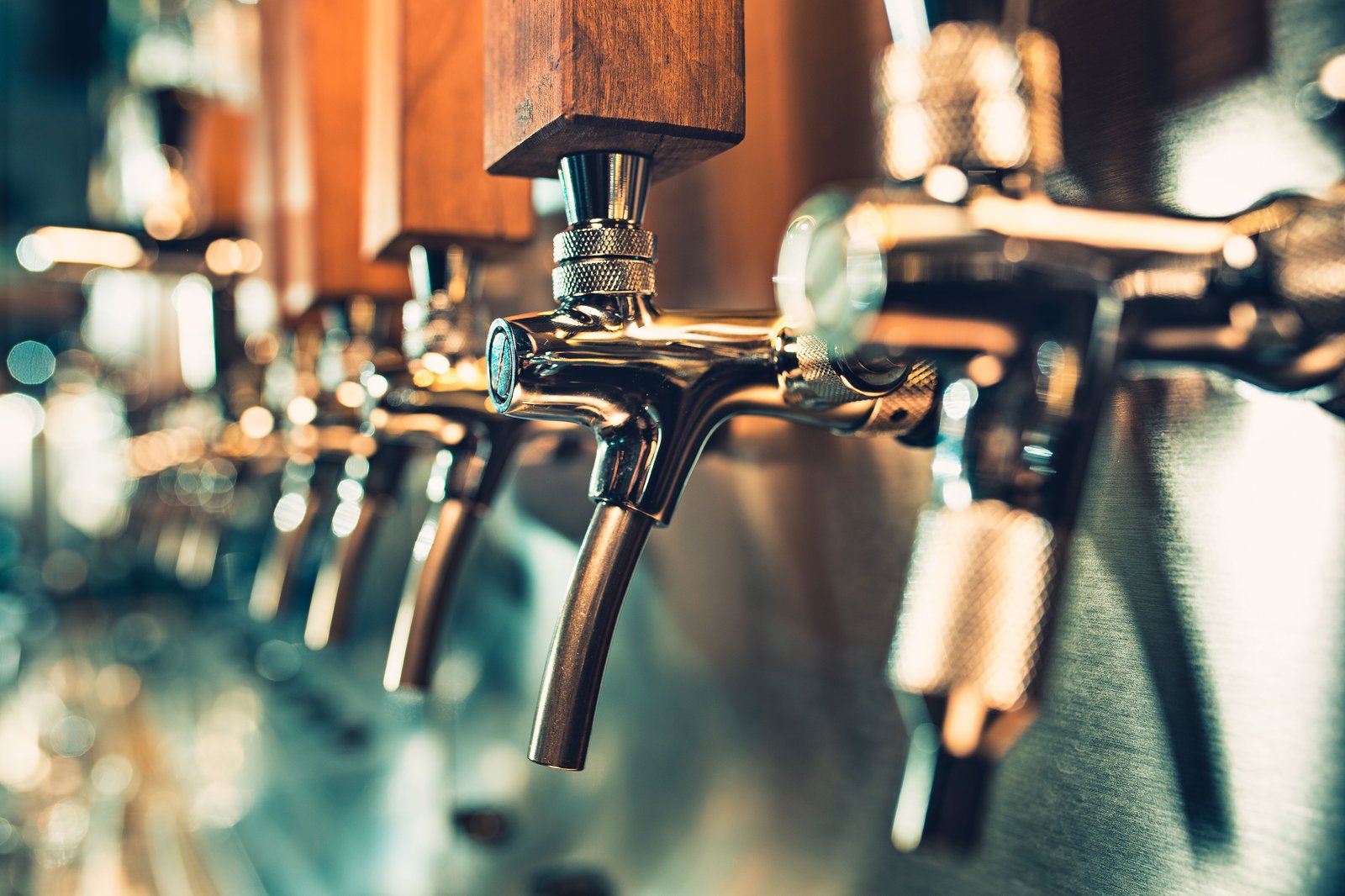 Background
Spendrups had a simple order portal that was used by their restaurant customers without much success. Customers preferred to email or call customer service to place their orders. In addition, the sales team lacked good tools to support their restaurant customers on site.

Spendrups therefore wanted a future-proof, fast and flexible solution with the ability of increased interaction and collaboration between customer, sales and customer service.
Assignment
Besides modernizing the actual order portal Spendrups wanted to offer a consumer-inspired e- commerce solution where they could meet their B2B customers in a personal way. The ambition was to invite the online customer to the family-oriented ambience prevailing in the company, and to share their knowledge which includes over 100 years of craftmanship and refined production. By sharing insights about everything from the precision of the fermentation process to hop varieties and beer glass variations, Spendrups ambition was to create a limitless inspirational drink experience for the beer enthusiast. Digital agency Sunny at Sea was commissioned to develop a completely new design language and web design.
E-commerce objectives
Pocket e-commerce – sales tool for Spendrups field sales team.
To increase the number of traditional orders to digital channels.
Offer the opportunity to place orders with Spendrups 24/7/365.
Responsive design including computer, smartphone and tablet.
Opportunity to in-depth content (Rich Content).
Opportunity to perform all types of tasks not limited to ordering.
Opportunity to be 100% e-commerce customer.
Offer a new range of accessories such as glasses, openers etc. online.
Online training, guides and films to support customers with for example changing barrel or cleaning a tank.
This is an important investment for Spendrups, and we have placed great importance on finding the right choice in e-commerce solution. Our new e-commerce platform must, without complication, accommodate all aspects of modern B2B sales online; being that contract prices, custom product selection, and content for different customer segments, are extra important elements for us! By choosing a SaaS solution, also provides us 'problem-free' ownership.
Since the launch, the number of customers who find our e-commerce has increased steadily every month. We now have a very good foundation that makes us flexible in our e-commerce work going forward.
Implemented is now a complete solution with Norce Commerce, Sitecore Experience Platform, inRiver PIM and M3. With lots of small but smart functions, it is now more user-friendly and efficient to use the web shop.

Norce + Sitecore is a proven solution that we warmly recommend to companies with high demands on user experience and e-commerce functionality.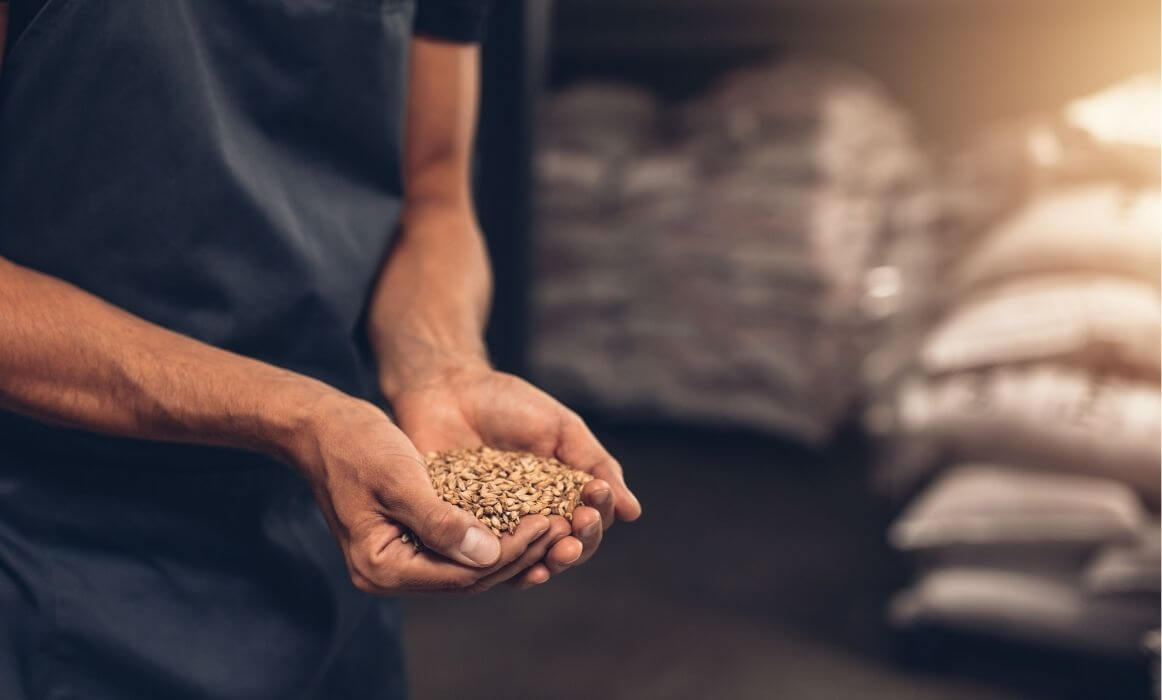 Requirements & implementation
After meeting a number of potential partners, Spendrups finally chose Nexer to conduct a pre-study and propose a technical solution. The pre-study began by collecting input from the sales team and restaurant customers by using anything from Google Analytics and heatmaps to surveys and interviews. Simplicity and speed were always in focus, and both customers and sales were involved throughout the development process.

The pre-study clearly showed that Spendrups had a completely different point of view on their e-commerce than its customers. Spendrups realized they could not get the customer experience they wanted in the existing CMS and understood the potential of using "Pocket e-commerce" to support Spendrups field sales team.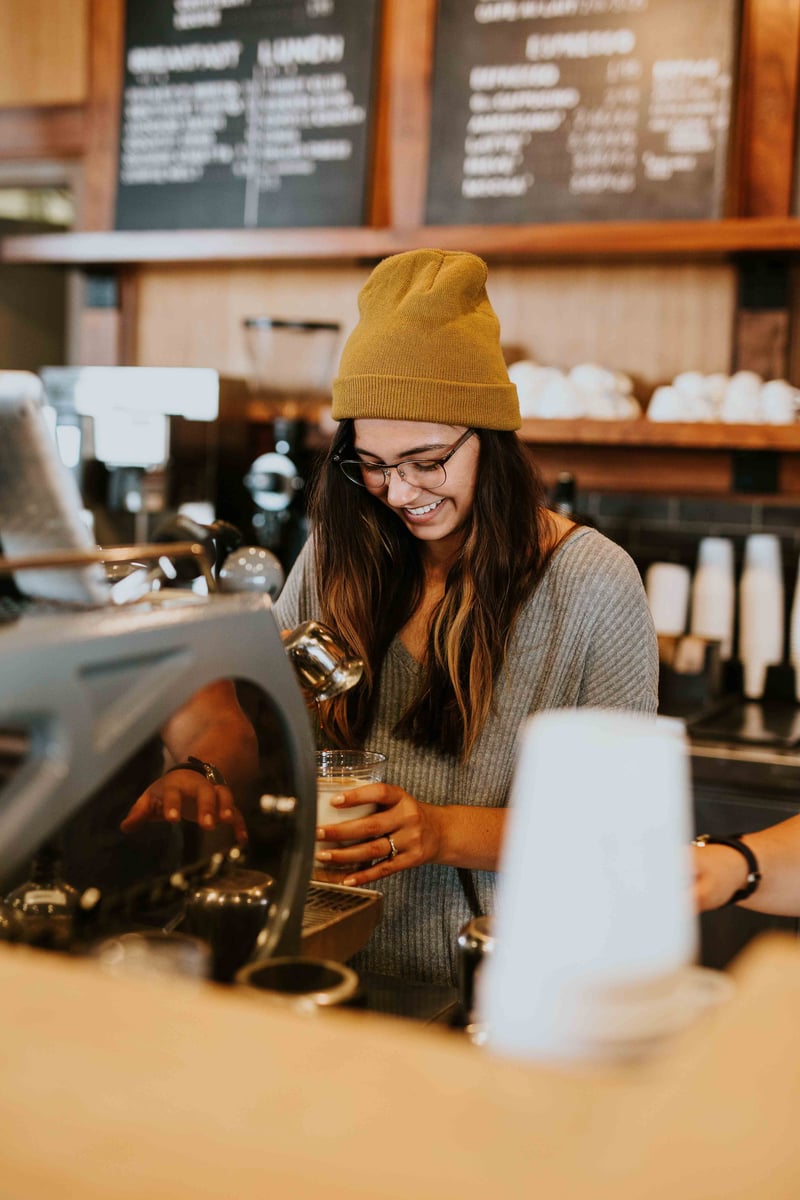 Strictly regulated industry
Spendrups operates in a strictly regulated industry, which puts demands on all sales channels. Only customers with a valid liquor license should be able to buy alcoholic beverages via e-commerce, and the assortment should be limited if there is no license in place.
Change customer behaviour
Spendrup's existing order portal was not used to any great extent since customers chose to email or call in their orders. The new solution should attract a new buying behaviour and break old customer habits. To be able to handle this, the e-commerce needed a user-friendly design that was intuitive both visually and functionality wise, as well as having smart functions for administration, planning, ordering and repetitive orders and follow-up.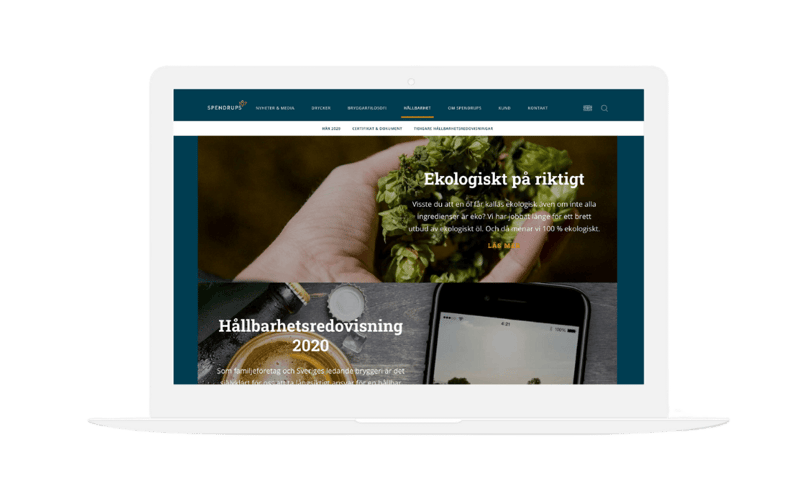 Streamline the sales team's everyday lives
Spendrup's field sales team lacked good tools to support their restaurant customers on site. In addition, there were requests from both the sales department and customer service to streamline the work with creating quotes, including the capability to add discounts and try-out items, and to be able to support customers with placing orders.
Offering consumer-inspired e-commerce
In order to remain cutting edge and relevant to its B2B customers, Spendrups wanted to offer a consumer-inspired shopping experience. The previous solution lacked inspirational elements such as online training, guides and films, as well as the possibility to work smart with accessories sales and complementary products.
Incomplete orders
Spendrups wanted to reduce the number of orders by helping the customer to make complete orders at once.
Specific customer requirements
In order to offer a top-notch B2B solution, important B2B functionality must be met. Everything from role manage- ment to customer-unique assortment, pricing and content. To make it easier for Spendrup's customers the ability to buy certain items via pot or credits, ready-made order proposals (help the customer to order correctly based on order history), and the ability to choose delivery date including display of order deadline was important functionality.
The solution
Spendrups believes in best-of-breed and consequently chose a solution based on Norce Commerce and Sitecore. The integration between the systems enables much of the functionality and data contained within Norce Commerce to be administered inside Sitecore's interface. The e-commerce solution also includes integration with the systems inRiver PIM and M3 business systems that already were in place. Following the pre-study, Nexer was responsible for the implementation of a fully automated flow from PIM systems and business systems to e-commerce engine and CMS, with optimized search- and user interface.

The e-commerce solution and selected complementary services meet the high accessibility requirement. The system is autonomous, which means the customers can use the web even if the ERP is shut down for maintenance. All product articles are retrieved from the business system, as well as customer-unique prices and assortments, and as soon as a product can be sold, it is displayed in e-commerce.
Norce Commerce:
Headless architecture that supports best-of-breed
SaaS-service that provides outsourced responsibility for operation and maintenance, continuous upgrades and scalability with high accessibility
Future-proof CMS and third-party services that can be exchanged at any time without affecting the core of the e-commerce
Automated business logic to control assortment, product relations etc
API-based platform enables smooth integration with other systems
Functionality
Flexible categorization
In Sitecore, the connection to Norce Commerce provides access to components that can be used to present products combined with content. This means Spendrups can create categories in Sitecore with products that are to be included based on a search in Norce Commerce. In this way, they are not limited to the categories provided by the underlying systems. The search can be based on:
One or more categories
Product flags & attributes
Free text
Top selling products
Selected products
The search can then be used to fill in content areas in Sitecore. Customers will only see the products that are included in the assortment to which they have been authorized.
Smart navigation & search
The solution comes with a smart navigation- and search functionality adapted to the user login. Menu- and search are individually tailored per customer and their assortment, which makes the experience more personalized.
Dynamic product lists
Working with product lists, shopping carts and previous orders is an important part of the solution. A list can be linked to a specific customer or be a general list that can be used in read-only mode at several companies. Spendrup's sales team can create and maintain the lists in Sitecore.

Additionally, there is a capability in Norce Commerce to prioritize these listings according to relevance so that the most popular and relevant products are shown first. With the help of popularity calculations and product flags in Norce Commerce, product news can be prioritized, and popular products higher ranked.
Tailored roles & permissions
Different roles both internally and with the customer control what information is displayed and what permissions different users have. Rights for different roles can be controlled right down to the attribute level. This means Spendrups can easily control what information the customer, administrator and sales team can see.
Customer accounts & users
Customer information and customer structures are synchronized from M3 to Norce. The information about belonging to a chain that is in M3, is an attribute of the company in Norce, so that it is possible to direct information in Sitecore towards the customers who belong to a certain chain. User accounts are managed in Sitecore. A user account can either be an administrator at the customer or an end customer.
Efficient sales tools
The user role "Sales" in Norce Commerce has the authority to log in to the site and in turn log in as a customer in order to be able to administer the customer's order flow. Both sales and customer service can use this functionality. The tasks you do as a representative on behalf of a customer are traced to show who has been logged in to perform the task. In the Sales role you get the opportunity to:
Help the customer to place an order
Prepare a shopping cart that the customer then can complete kan gå in och slutföra
Create lists linked to a customer
Give discounts
Add try-on items to a shopping cart
Offer free delivery
Great emphasis has been put on creating a responsive solution and the sales team now have "Pocket e-commerce" that works well on site.
Restaurant customer functionality
Logged in as a restaurant customer you see your customized assortment and customer-unique prices. You have the possibility to choose delivery date, buy via pot, easily place repetitive orders and work with your own shopping lists and favourite items. Shopping lists can also be created and provided by Spendrup's sales team, if they for example want to market a new product or create lists linked to a specific season (e.g., a list of Christmas assortments so that the customer knows which products to buy before Christmas).

Spendrups stores the customer's purchase patterns in all channels and can thus suggest relevant additional products to the created order based on what the customer usually buys. This in combination with better support for up-sell and cross-sell makes it easier for customers to place more complete orders, in order to reduce the number of completion orders.

An important added customer value is also the new content in the form of online training, guides and films that provides customers with support to self-support.
Results
Spendrups on its e-commerce portal for restaurant customers
Customers can place their order in peace and quiet at any time of the day.
The customer can easily pick previous orders and reorder with a simple click.
The customer can save shopping lists with their favourite items, which facilitates ordering.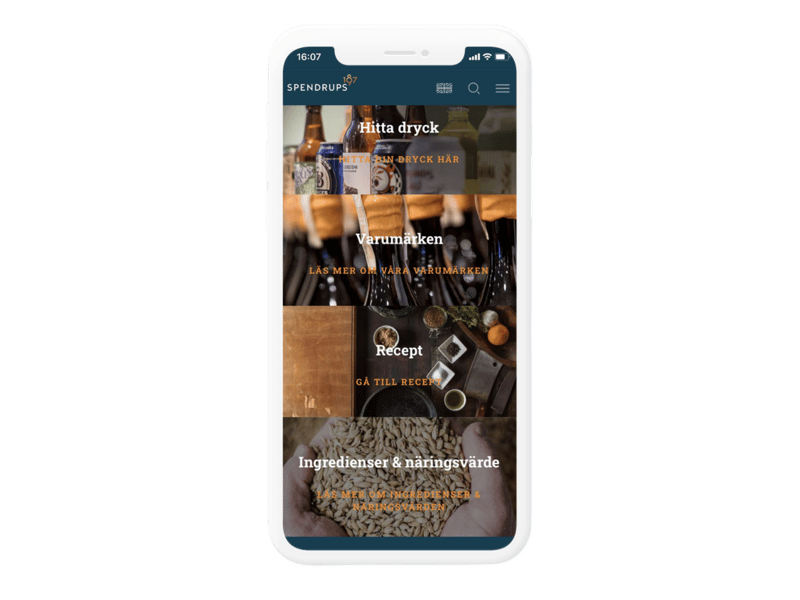 Future-proof best-of-breed
Today, Spendrups has a modern solution with automated flows between different systems, from PIM and ERP to e-commerce engine and CMS. The e-commerce is built to ensure the highest possible accessibility. The solution is future-proof and Spendrups can replace individual components without affecting the core of the e-commerce.
Efficient sales tools
User-friendly administration interfaces and functionality for roles and permissions simplify the work for those creating content for the e-commerce site. New tools have streamlined the work for sales and customer service employees. Customers get support faster and Spendrup's employees a smoother everyday life.
Personalized customer experience
The entire customer experience has been taken to a whole new level and after logging in every customer today has their unique view. Assortment, prices, content, menus and search are adapted to the customer, which provides a personalized shopping experience.

The capability to add rich content to educate Spendrup's beverage enthusiasts, in combination with a modern web design, contributes to a good user experience.
Positive customer response
Spendrups are very happy with the response to the e-commerce portal by its restaurant customers. The new e-commerce has received very positive feedback since its launch.

The portal has many tools that simplify the restaurant employee's work routines and it strengthens the relationship with Spendrups. Today, customers can much more easily than before get support to place orders, look for previous orders and repeat orders.
Some of our selected cases