Imagine that you are a manufacturing B2B company. You have had your product information in a PDF catalogue for a long time and you have sent it to your customers. A few years ago, you also started presenting your products on the web because it simplified distribution.
But since the PDF catalogue is still in use, you need to update it in two places when new products arrive. You think it is a bit tricky, but it's worth it for the business is, after all, good. Then, you expand with more products and suddenly it feels hard to maintain this directory in two places. In addition, some large customers have special products that should only be available to them.
PIM-systems
On the web, you read that PIM systems seem to be the solution to your problems. Imagine being able to structure product information such as size and weight, colour, classifications and certificates – all in one place. At the same time, several of your large customers, those with the special range, ask for the option to order online and also to get individual discounts. Exciting, you think, but how do you do it with a PIM? Is there a difference between PIM and PIM?
The next step in the journey above is to implement a PIM system and then when you feel ready, build e-commerce. Most PIM systems handle the structuring of product information and publishing in various channels, such as catalogues, the web or signage. But they usually lack the commercial elements to enable a seamless transition to e-commerce. One piece commonly missing in traditional PIM systems is product pricing.
The difference between PIM and PIM
Norce thinks a little differently. While our PIM provides the same functionality as many of the other systems, we have built it with a seamless transition to e-commerce. This means that, in addition to managing your product information, you can work with customer-unique assortments, availability and pricing. Moreover, Norce PIM is built on Norce's API-based platform which makes it easy to integrate with, for example, suppliers, customers, and translation services.
So, when you feel ready, you can easily build a cart on your existing site and quickly have a functioning e-commerce site up and running.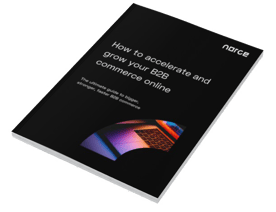 Find out how to accelerate and grow your B2B commerce online in our ultimate guide to bigger, stronger, faster B2B commerce!