A marketplace is an e-commerce platform, where third-party companies can sell products or services. The transactions are processed by the marketplace proprietor, and then delivered by those participating marketers.
Marketplaces can be categorized in different ways. Examples of B2C (business-to-customer) marketplaces are: Amazon, AliExpress, and Booking.com. In the realm of B2B (business-to-business), vertical marketplaces are common; and there are also industry-specific portals, where one can buy and sell goods. Within C2C (customer-to-customer), there's Etsy and OLX; and in Sweden, Blocket is the most well-known.

The largest marketplaces in the world right now are: Amazon, Alibaba and Wish. In the Nordic region, we have the marketplaces CDON, Fyndiq and Tradera; where buyers and sellers can meet. The seller registers on the marketplace, and can sell products for a fee; such as, a percentage of the order value.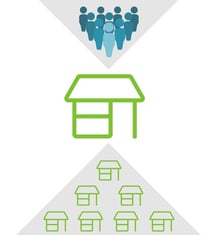 Marketplaces can be an important complement for e-retailers, who want to broaden their sales with an additional sales channel.

All Storm Commerce merchants can expand their sales channels, through a link to the CDON Marketplace, and post selected parts of their product range in one or more countries; and automatically sync prices, stock balances, and manage transactions and deliveries.

As marketplaces offer a broad selection of products, from several different suppliers, the selection is typically broader and the availability higher, than in supplier-specific stores.