What is key to B2B business success according to our Solution Partner Spot On?
We asked a selected few of our Solution Partners to give us their view on the requirements and best practices for modern B2B commerce and also asked them to give us a prediction for the future.
Let's hear what Julia Runfeldt, Head of marketing on Spot On has to say.
What are the three most important things to consider in B2B e-commerce?
Structure and enrichment of your product data. Many companies still work with everything in excel files, juggle information in dropbox, have non-updated pdf files and business systems that do not allow enriching product descriptions.
Make sure your integrations run smoothly between internal and external systems. The reward for such an investment will not only be a lower risk for human errors but also avoiding unnecessary manual work.
Get all employees on board! Act on data by interviewing your customers about what they want instead of getting stuck in "that's the way we've always done it."
What are the three strongest trends within B2B-commerce?
Generational change in B2B buyers – the millennials are increasingly avoiding human contact in their research and when they make orders. Make sure you catch them online in several different channels.
More and more companies choose to approach the end customer directly, perhaps not for the entire range of products but for limited editions, spare parts, sale items etc. A perfect way to start testing e-commerce!
Configurators combined with 3D drawings to visualize product and results.
Give us some of the unique advantages of your B2B-storefront!
The market's best CMS (Umbraco) combined with the market's best e-commerce solution with built-in PIM (Norce Storm) ensures unlimited flexibility, high user experience and a long life span.
An already made storefront stuffed with all the necessary elements for B2B commerce that is easy to customize with customer specific functionality and design. Based on our long experience within the e-commerce field we can guarantee that all of the functions are what most companies need from the start.
Flexible license model allows you to start easily with a website where you show off your products and gradually expand with customer portal, integrations, and e-commerce.
---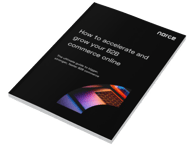 Find out how to accelerate and grow your B2B commerce online in our ultimate guide to bigger, stronger, faster B2B commerce!
In the guide you will also learn what Partnersense, 3bits, Camelonta and Nexer think about B2B-commerce and its future!
---
About Spot On
Spot On is a digital partner with a background in e-commerce, system integration, UX and design, web development, digital marketing and business development. Spot On has experience of working with companies of all sizes, regardless of industry or end customer.
With Spot Ons Storefront, you as a customer will have a chance to quickly get started with Norce Commerce and feel the power of Composable commerce. Together with the people at Spot On you will have the opportunity to work proactively on your digital commerce, they will help you with everything from strategy around digital commerce to technical implementation as well as customer insights.

Visit Spot On