Deliveries should fit people's lives, not the other way around. It's about time to admit that the delivery offer no longer belongs to the last step of the checkout process — something consumers would normally reach at the end of the shopping journey. Instead, consumers want to shop based on the delivery experience. They want to know which products and which merchants offer the most convenient, cheapest, and fastest delivery option before reaching the checkout. It's the beginning of a delivery-first era in e-commerce.
Top five tips for deliveries
Give your consumers the power of delivery personalization. Consumer habits, locations, seasons, item specifications and estimated delivery times are some of the factors that determine which delivery method customers contextually expect for every purchase they make.
Be upfront about the costs of delivery. Consumers tend to abandon their carts when you hit them with high or altogether unexpected delivery costs. It's the most common cause of shopping cart abandonment — it accounts for about half of abandoned online orders.
Set up a delivery-first checkout flow. Display your delivery pricing on the homepage or product page — make it one of the first things your consumers will encounter and be able to assess.
Make an accurate delivery promise. It's not only the price and speed of delivery that count for a great shopping experience. You need to be focusing on when, not how soon, as well as helping your consumers feel in control of the process by letting them choose a preferred method of last-mile delivery services.
Cover all stages of the delivery journey with proactive order tracking. Accurate delivery promises, estimated delivery dates and relevant tracking information from the moment the order is placed are great ways to ensure a predictable delivery experience, reduce delivery anxiety and increase trust in your e-commerce business.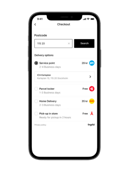 That's why e-commerce merchants need to start integrating with the right end-to-end software to suggest the best delivery options for every purchase and create a personalized brand experience at all stages of the journey — from checkout to delivery.
"Deliveries are very contextual, how the consumers want their stuff varies a lot depending on what they're buying and when. So, e-commerce brands should offer different alternatives at different pricing points, without putting all their customers in one box — from our experience, not everyone is looking for speed, or only home delivery options."
Anders Ekman, Co-Founder of Ingrid
Checklist
For the best delivery experience:
Give your consumers the power of delivery personalization

Be upfront about the costs of delivery

Set up a delivery-first checkout flow

Cover all stages of the delivery journey with proactive order tracking
---